So now you need to know how to tether your tools? Follow this guide, you'll be a tool-tethering expert before you know it!With the long-awaited dropped object standard ANSI/ISEA 121-2018 finally being approved, we can expect changes across most industries. Because this is a new standard and the solutions used are somewhat new to the industry. We created some brand specific guides to help simplify the process of selecting the proper weight rated equipment to tether your tools. We drilled down on two of the major brands/players in the industry 3M™ DBI SALA® & Ergodyne. Weight ratings and product use instructions are very specific to the brand.
Before you're ready to tether your tools there are a few simple questions to ask yourself that will make selecting the right products simple.
Things to think about First?
Q. What type of tool are you tethering?
This will help identify the proper method & products needed to secure your tools.
Q. How much does your tool weigh?
The majority of certified fall prevention products made for tools are rated based on the weight they'll hold. Knowing the weight of your tool will ensure you apply the appropriate weight rated Attachment Points, Tethers & Tool Anchors.
Q. Does the tool have any pre-drilled attachment points that are rated to be tethered?
If yes, it's possible to tether directly to the tool (see Tool Tethers) -OR- add an attachment point for ease of switching out tools on the job. (see Attachment Points)
If no, a weight rated attachment point will need to be added to the tool. (see Attachment Points) This will provide you with a tether point to attach a lanyard.
Q. Is it a specialty tool that will require a tool trap?
Tool specific traps are made for installing attachment points on tools like tape measures & power tools, where applying a standard attachment point does not work or would impede the tools primary function. (see Tool Trap Attachments)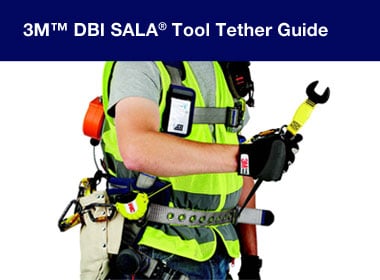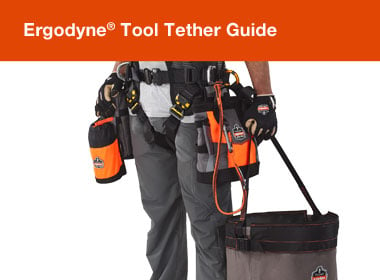 Interested in learning more about Tool Tethering and Fall Protection For Tools? Check out our Guide: Fall Protection for Tools - Dropped Objects Prevention